Three things always happen when Fink go away on a trip of some sort. One is that someone asks if two of us are brothers. (At Los Angeles airport once, an old lady asked if all three of us were brothers.) The second is that none of us manages to ever remember the name of our liaison/handler person. (There must be some sort of medical term for this condition. Name-blindness? Name-nesia?) The third thing is that our sound engineer Rob steals all the chocolate, although this is always furiously denied. (Recently, in Germany, he was spotted tipping an entire hotel reception bowlful of Ritter Sport miniatures into his laptop bag.)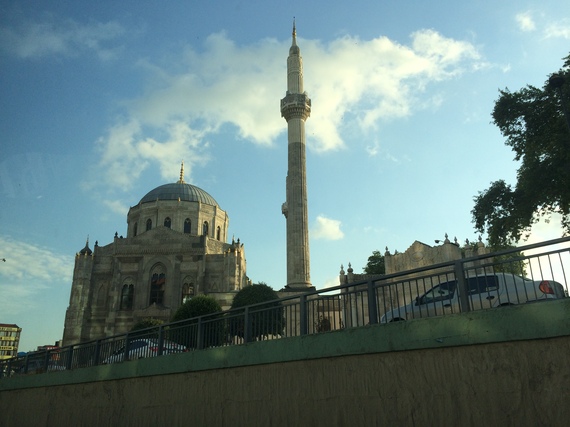 So this weekend's jaunt to Istanbul seems to present us with no dramatic U-turns in Fink tradition. Arriving in town for the One Love Festival (not, as originally suspected, named after the follow-up single to The Stone Roses' Fools Gold), we are met at Istanbul's enormously hot and busy airport by a charming, efficient red-haired girl with a tattoo of Sicily on her neck (not, as originally suspected, Cyprus), who gamely leads us and our bonkers trolleys of gear through the bonkers terminal building and towards a large people carrier, and with whom we then spend the better part of two hours charging through the bonkers Istanbul Friday evening rush hour traffic, chatting about this and that; we get to the hotel (not, as originally suspected, anywhere near the city centre), she checks us in, she tells us the pick-up time tomorrow and then fucks off – and none of us has the single soddingest clue what she's called. Nor have we magically remembered when she arrives to pick us up the next morning, by which time, being Englishmen, it seems too late and too rude to ask. We're going to have to get a little better at this.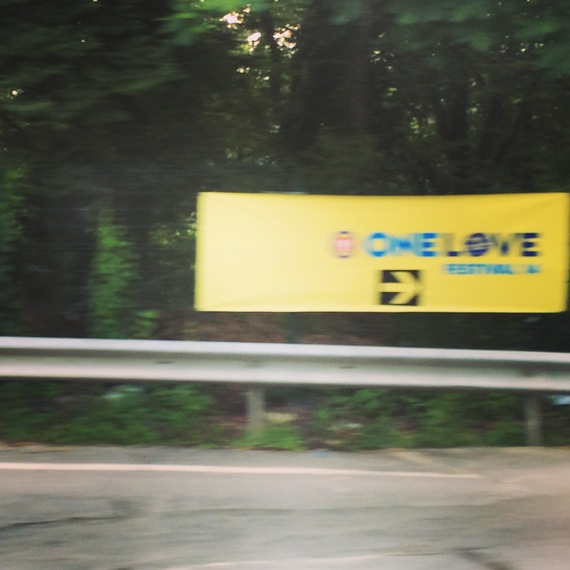 Anyway, we've been quite excited about this festival, partly because our Istanbul gig back in February was sold out and a genuine highlight of the tour, but also because the lineup boasts some proper band favourites: James Blake, Metronomy and Everything Everything to name but three. Personally, the latter's album Man Alive is definitely somewhere in my top ten albums of this century so far; so when I'm cracking into my first post-journey beer in the hotel bar it's kinda weird when the album's composer and bandmates amble in and plonk themselves down across the room for their own refreshment. I turn back to the boys and we continue our conversation about whatever it is – I think at this point we were talking about my friend who has a phobia of the inside of Aero chocolate bars – then we decide to step out and grab some dinner. Stepping out, however, proves unusually tricky, as the automatic sliding glass doors leading out the bar have decided to stop being automatic. I stand there like a prize cabbage for a few seconds before Guy our bass player points out that I'm not, in fact, standing by the automatic doors, but by a very large pair of windows. He spins me round to the real automatic doors, but they don't open either. Confused, we turn away to look for another exit – and they open. Every last molecule of cool having long since departed, we laugh it off extremely loudly as if to say, "hey – automatic doors? They're so 2014″ – and stride outside. "Don't worry," I assure Guy once we're well out of earshot. "At least we haven't just made total plums of ourselves in front of Everything Everything."
The plan the next morning is to have a quick breakfast and arrive at the festival site around 8am, thus entering the record books for the world's earliest soundcheck to take place in a Turkish forest. We sleepily pour ourselves into the people carrier, the driver hurries us out of town to the middle of a wooded public park and unceremoniously dumps us by a tent, then speeds off with all our gear. Nothing further happens for about two and a half hours, apart from we drink about a gallon of coffee each. The local crew seem mysteriously keen to keep us away from our stage. We speculate that maybe it isn't built yet. The stage manager pops over at about ten o'clock to assure us that all is fine – there are just a couple of teething problems – then barks something in Turkish to Karima our monitor engineer. Karima is not Turkish, although possessing some Egyptian blood she looks a bit Mediterranean and therefore the stage manager is probably wondering what the blazes a member of the local crew is doing "chilling with the band". Karima apologises profusely and so does the stage manager and everyone hoots with laughter and then we all get bored and decide to crash the stage construction party and see what's wrong.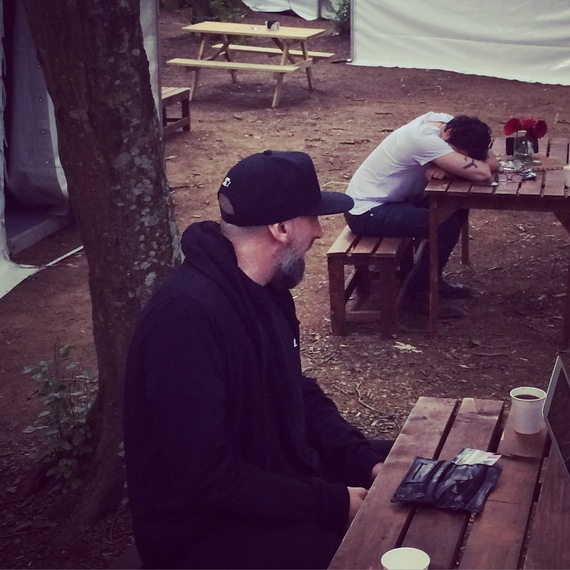 The PA doesn't work. Then someone fiddles with a few knobs and it magically springs into life, and amid the increasingly sweltering morning we crack on with the soundcheck. It's at this point I spot the Selfie Tower. Yes, that's right. A Selfie. Tower. A wooden tower built with the sole function of people taking selfies "with" the band playing in the background. It looks like some bright spark has simply upcycled a child's tree house and is now marketing it as a thing. I wonder how many other festivals will have one this summer. I also hope they're not the cause of any Dave Grohl-esque injuries, although admittedly the headlines would be priceless.
As we return to the backstage "compound", hot, sticky and prematurely knackered, a rather more refreshed Everything Everything are just arriving, whom I strongly suspect of having had a nice lie-in. I decide to finally corner Jonathan the singer and tell him we've fixed the PA for them, oops, I mean, tell him what a big fan I am. He turns out to be very friendly, not that I was expecting anything different. Guy lurks somewhere behind me. "Are you two brothers?" Jonathan asks. I internalise a groan and reply brightly, "No, but I suppose we've kind of morphed into each other over the years." "Yes, I think that'll happen to our band too," he concedes, then adds, "but I might have to grow half a foot or so," nodding over at their seven-foot tall bass player. I return to our dressing room tent and receive a smirk from Fin our singer. "Did you just fanboy Everything Everything?" he sniggers. "You can't use 'fanboy' as a verb," I mutter, gazing around and noticing that Rob has yet to pinch the chocolate. He must be feeling ill.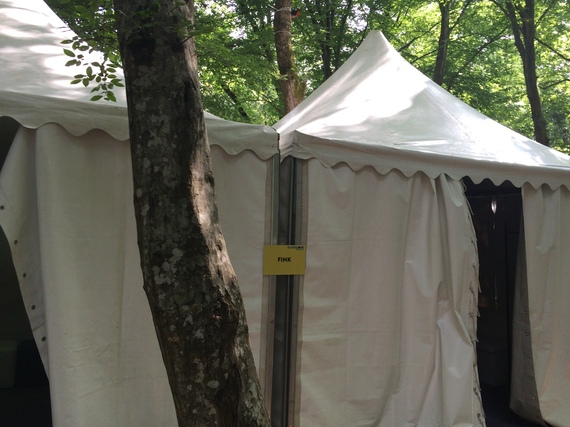 One Love Festival turns out to be very nice. Teething problems aside, the local crews are unfailingly smiley and helpful, the audience quite preposterously cheerful and summery and, unlike even the nicest of western European festivals, there appear to be no variously intoxicated people whatsoever. There is but one problem. Our slot on the second stage is from 7.30 until 8.45pm, but from 6.45 until 8pm on the main stage – a large mothership conveniently pointing directly in the direction of our arena – Metronomy are playing. I'm initially gutted about this because I wanted to see them, but as we take to the stage to the loud blaring of "LOOOOOVE LEEHHH-TERS!!" I realise our quiet songs are going to suffer a bit of a beating. Fin is equal to this, and makes a gag of it. "The first half of our set is gonna sound like a Fink/Metronomy remix," he tells the crowd. "Which is kinda cool, cos we could never afford a Metronomy remix." In truth, it only really bothers us in between songs, and our crowd are gratifyingly effusive, with many familiar faces visible from our club show earlier this year. We even get a backslap from the Everything Everything boys in the green "room" afterwards. We stick around and watch their slot, naturally; and equally naturally, they are quite splendid. Special mention must go to the hardest working man in showbiz, Pete, who is one of their backline techs; but then, come showtime, he dons the crazy orange and pink jacket that is the band's onstage uniform, and turns into their keyboard player. I hope he gets two slices of pizza afterwards.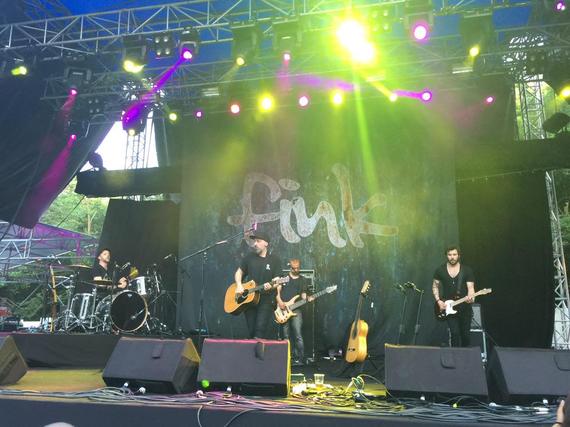 To complete the fanboy action for the weekend, Guy also introduces himself to James Blake. Another total gent, as it turns out, although Guy's timing is interesting. He pounces on Mr Blake just as he's emerging from a backstage Portaloo. "Ooh, sorry," says the man himself. "Wet hands." Then they have a jolly nice chat in which JB repeats Guy's name about five times. A technique, I figure, to help remember someone's name. "Maybe we should have done that with our liaison," I reflect, as we're packing up to finally leave the dressing tent and head off into the Istanbul night. As I survey the place one last time to see if we've left anything crucial behind, I notice that all the bars of chocolate are still sitting, untouched, in the fridge. After a quick glance around, I shrug and stuff them into my bag. There you are, Fink touring party. I've confessed. It was me.