Fink are going on tour again soon, and the 30 or so people who make up Team Fink are in a flurry of activity. Preparing for a trip like this – almost 40 days on the road, 16 countries and some whopping great venues (Berlin's Tempodrom, London's Forum, Amsterdam's Concertgebouw) – is no joke. Simon our tour manager has been spotted staggering out of his office some nights as late as 6pm, mopping his brow with a spotted handkerchief, heading for the nearest pub.
It never used to be like this. Hardly seven years ago, touring usually involved all piling into someone's car, putting our foot down and hoping for the best. Now it's like an entire temporary chain of shops that comes together for a few months and then swiftly disintegrates like it was never there. Local crew, advancers, promoters, agents, merchandise designers/producers/sellers, digital communicators, management team, our manager, our label, our crew, our band… and Fin. Yes, somewhere at the centre of it all, in his vast Berlin penthouse, sits Fin himself, in an enormous Mastermind chair, stroking the proverbial cat and occasionally phoning one of us to ask "What news of the load-in time in Oslo?" – or a similarly crucial enquiry.
So I thought it would be fun to take a sort of metaphorical snapshot of what our band and road crew was up to, today, in preparation for this epic trip. I asked each of them three very simple questions. I think their answers say a lot about who they are, the jobs they do, the pride they take in their work, and the amount of time they spend replying to my silly emails. Casting my eyes over the written answers now, I can't help thinking it resembles a strange sort of script: not a nice sensible interview like they have in music magazines, but more like one of those odd improvised 1970s dysfunctional comedies by Mike Leigh. So, I now present… Fink: A Team Prepares.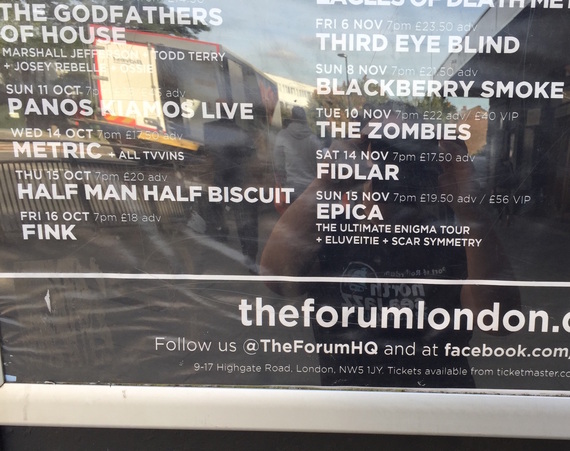 Simon snapping the Kentish Town Forum schedule. Doubtless so he can remember Half Man Half Biscuit are playing the day before us.
Q. What did you do today in preparation for the Fink tour?
Karima (monitoring engineer): I stole some electrical tape.
Chris (electric guitarist): I tried to solve a ground loop issue with my pedalboard, the voice of Argy in the back of my head, spurring me on.
Argy (lighting director): I received some venue-specific paperwork and made sure we can do what we want to do, as part of our show, in that given space, and also I pre-programmed some new songs that the boys might be playing on this leg [I like the way he says "might"… no one knows].
Guy (bass player): I took my acoustic bass to a luthier to fix the allan key screws that a mystery customs officer destroyed in trying to access the battery compartment.
Rob (front-of-house engineer): I finished filling my Peli-case with content [Hm. I wonder what the "content" consists of? Knowing Rob it could be anything – cables, green tea, instant noodles, Tom & Jerry DVDs].
Fin (lead vocalist, acoustic guitar): I hit the gym to get fit for the length of the tour – today it was "back" day – and right now I'm working on a soundtrack to be delivered before we leave – gotta clear the decks so I can rehearse some of the older cuts we've been talking about resurrecting… [interesting use of "resurrecting" – like we'll be doing the musical equivalent of a séance to bring songs back to life… can't wait]
Simon (tour manager): I visited the Belarusian embassy in London, sent a bunch of chasing emails, filled in pages of the tourbook with new info, started the conversation with the Vilnius promoters re: the troublesome Vilnius travel arrangements, outlining the broad strokes of my cunning plan… it's so cunning it has an ungraded NVQ in Wily Slyness from Basingstoke Poly (formerly Basingstoke swimming baths). [I think he got a bit carried away at the end there]
Ruben (piano): Spent a day doing absolutely nothing on a Vermont farm while on holiday. [no comment]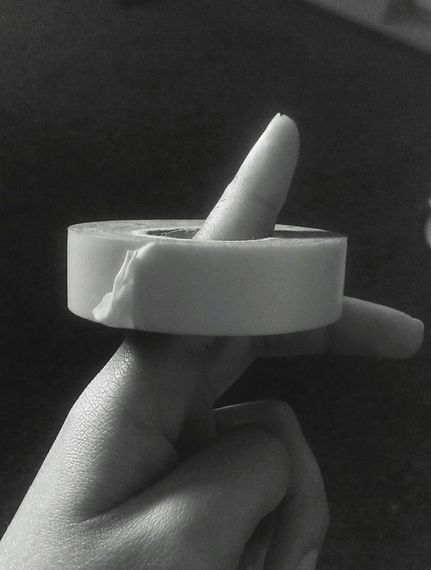 It's hard to make electrical tape look arty but Karima managed it.
Q. What are you most looking forward to about the tour?
Karima: Not having to cook for myself for a whole month.
Argy: Catching up with the boys and being part of Finkworld again and bringing some wicked shows to their fans across Europe [aren't Argy's answers professional? He's nothing like this in person, believe me].
Guy: Playing loud. Spending time with good friends (Chris and Karima). [Chris and Karima? That can mean only one thing. He hates Fin and me]
Chris: Road testing my new amp (thanks Vox!). Also, that pleasant surprise when hardboiled eggs are on the rider.
Rob: The start.
Fin: Just everything really – from the big to the small – looking forward to hitting old familiar places like Concertgebouw in Amsterdam and Berlin and so on, but also really up for some new places like Belarus, Ukraine, Lithuania… touring in the winter is always a challenge, but the bus gets really cosy… She Drew The Gun on support is something I'm looking forward to as well… seeing a young band every night from the side of the stage is always awesome… having them develop throughout the tour always gives me a kick… by the end they're always blasé jaded tour-bitches like the rest of us…
Ruben: Guy mouthing "I Love You" to me on stage, Chris's B-hang, Tim's brush shattering to pieces and Fin's pelvic wobbles… [Chris's B-hang: an extended period of time when Chris is playing nothing but the note B; I think it happens in between "Truth Begins" and "Looking Too Closely" but I could be wrong]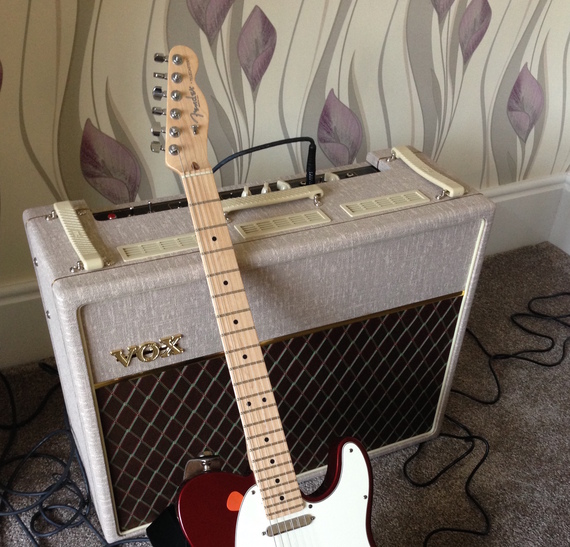 Chris's wallpaper. Oh, and his new amp.
Q. What are you least looking forward to?
Karima: The constant smoke. And the ferries.
Guy: I can't believe I'm going to be missing final stages of the bloody Rugby World Cup, what a pain in the arse.
Argy: Guy moaning.
Chris: Waiting for *ahem* "hotel time". [??]
Rob: The end.
Fin: Leaving home/getting home… that's the weirdness about touring…
Ruben: My bunk.
So there you go. You'll notice that Simon our tour manager didn't bother with the last two questions, which means he either considered them thoroughly beneath him, or he's neither looking forward to, nor dreading, anything that's coming up. Then again, he of all people knows "the truth". Don't believe me? Have a look at his master tour file.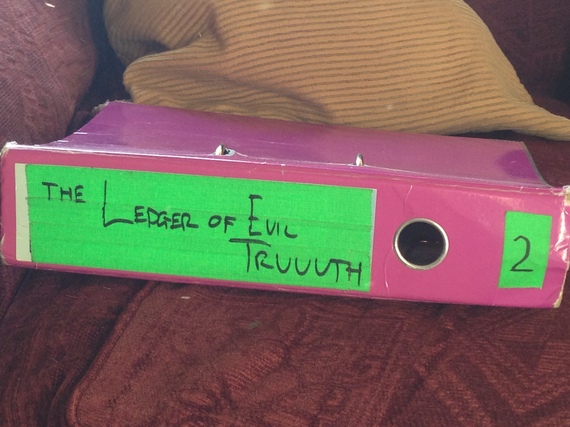 Finally, of course, there's me. Well, today I wrote a Huffington Post article about preparing for a tour, posted about eight multilingual Facebook posts, spoke to our sound engineer about cats, daughters and my new Roland sampling pad, and then ate a burger to prepare my stomach for a month of burgers. It's all valid preparation, bro…
SEPT 2015