It's that time of year again when your news feeds are full of links with jolly subject lines like "Hey! Here's Crazysoundz 250 Best Albums Of The Year", and so on. I don't know about you, but I rarely get to hear 250 new albums in a decade, never mind a year. Having said that, 2015 was a particularly efficient 12 months for me in the realm of listening to new music, probably because I was on tour for most of it and therefore had much bunk time (you don't think we actually sleep in those horrid little shelves, do you?). Consequently I feel qualified to narrow down my experiences to 10 long playing records that rocked my world this calendar year. So, in true hit-parade style reverse order, here we go…
10. Farao – Till It's All Forgotten
I don't mean to sound horrible, but when someone tells me, "I'm a solo artist, by the way, and my album's coming out soon," I rarely prepare myself for anything particularly earth-shattering. So when Kari "Farao" Jahnsen joined Fink's tour for a while to play drums for our support act Douglas Dare and mentioned she'd made a record, I hope she'll forgive me that I didn't immediately think, "Yep, that'll make my Top 10 Albums Of The Year list." But it has. Aside from the fact that it's just a damn good listen with some damn good songs and damn intriguing lyrics, there are three main reasons for this. 1. It's completely baffling. Why does she frequently change time signatures three times before the chorus? Why are the songs called things like "Warriors", "Hunter" and "Bodies"? Why are there about nine of her singing "Maze"? All very strange. 2. The keyboard riffs sound like outtakes from The Human League's Dare. This is in every possible way intended as a compliment. 3. Sorry to sound nerdy, but the production is brilliant. Perfect drum sounds, perfect spacing, perfect effects, perfect levels, without it sounding at all "produced". Mike Lindsay from Tuung, you're rather clever. Anyway, if you're bored of "normal" singer-songwriter stuff and fancy a 10-song burst of crazy inspiration, Farao's long player is for you.
9. Father John Misty – I Love You Honeybear
Any album containing the lyric "the malaprops make me want to fucking scream" would always be a hot contender for my record of the year. Father John Misty lures you in with his John Denver-esque croon and then batters you about the head with his wittily painted pictures of a doomy world. Every song is a complicated situation grown even more complicated: "I've brought my mother's depression / You've got your father's scorn and a wayward aunt's schizophrenia" he sings breezily on the opening track, while "The Ideal Husband" finds him admitting that he "didn't call when Grandma died / I spend my money getting drunk and high". Somehow, although occasionally a tough listen and certainly fitting in the "embarrassingly confessional" bracket, FJM manages to entertain the hell out of you, with the music surprising, ambitious and crunchily performed. Unlike many misery-merchants, Misty actually sounds like he'd be a fun drinking partner (although I expect I'd need a taxi after about 90 minutes).
8. The Staves – If I Was
I'm one of those firm believers that you could wander the earth for several years and never find three singers anywhere near as good as The Staves. Emily, Jessica and Camilla are capable of turning even the most apparently featureless corners of their music (and Lord knows, there aren't many of them) into a thing of complete beauty merely by shifting the notes in one of their legendary three-part harmonies and twisting it into something even more magical than it was already. Not that this is the only reason to give If I Was a spin: for one thing, they've got Bon Iver's Justin Vernon on production duties (akin, I imagine, to getting Christopher Nolan to assist with your new existential thriller), which has helped the already great songs bubble with atmosphere and a spellbinding sort of unease. "Damn It All", "Sadness Don't Own Me" and "Make It Holy" are among the best sounds to escape from my headphones in a long while, and have turned many a lengthy tour bus journey, staring out at some featurless European motorway, into my own private ultra-cool indie film.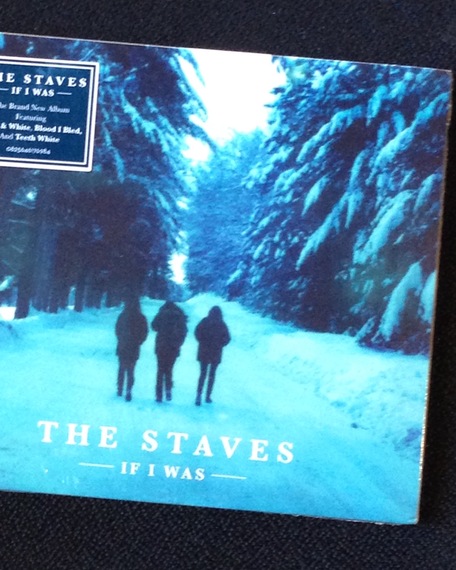 The Staves. Nice girls, unfortunately walking in the opposite direction.
7. This Is The Kit – Bashed Out
Sigh. Some are born with great voices, some achieve great voices, others have great voices thrust upon them. All of these statements could apply to different parts of This Is The Kit, none more so than the band's vocalist and head honcho herself, Kate Stables, who really could sing excerpts from a Build-Your-Own Industrial IT Server manual for an hour and melt every ear in the room. TITK, as almost no one calls them, garnered a fair bit of attention around the release of Bashed Out of the kind of Now That's What I Call Banjo variety, which is a shame partly because I think there's only one song featuring banjo on the entire record, but also because it slightly belittles a haunting and invigorating batch of songs, full of atmospherics, dynamics, some splendid performances and a fair amount of melancholy hiding in Stables' pleasing idiosyncratic words: "Pick yourself up off your rusty dusty" she sings during "Magic Spell", and who could possibly argue with her?
6. Ghostpoet – Shedding Skin
Three albums in, and Ghostpoet shows absolutely no sign of vanishing into an interest-free vacuum. This set of tunes haunted me through the latter part of the year, with some great guest vocals (Nadine Shah, Lucy Rose) and top instrument playing from his touring band who seem like they've been let off the lead a bit this time. With tracks like "Be Right Back, Moving House", assisted in the vocal department by Maxïmo Park's Paul Smith, Ghostpoet is starting to suggest he could possibly pull off a big anthem or ballad if he so desires, maybe giving him a proper hit or two, without completely blanding over. But for now, the variety and energy on this record is more than enough to keep Ghostpoet firmly in position as one of the world's finest indie-rap warriors.
5. Villagers – Darling Arithmetic
To say that the songs on this album are wonderfully simple risks the unhappy by-product of suggesting anyone could do it. They couldn't. Conor O'Brien injects his songs – both the mellow and uptempo ones – with such vivacity it's almost embarrassing; that he welds them together with dark-edged tales of love and intolerance makes them all the more riveting. Tracks like "Hot Scary Summer" and "Little Bigot" lure the listeners into a woozy state of complacency, then floor them with lines like "Remember kissing on the cobblestones in the heat of the night / And all the pretty young homophobes looking out for a fight". With rockular music now in its seventh decade, it isn't easy to do completely new things with just chords, lyrics and a melody, but Conor O'Brien manages it. All this, and also one of the best beards in the business.
4. Grasscut – Everyone Was A Bird
Every other time I listen to Everyone Was A Bird, I wonder why Grasscut aren't massive. I wonder why a Mercury nomination has so far mysteriously eluded them, why every movie director on the planet hasn't asked them to compose entire feature soundtracks, and why they aren't a permanent fixture on BBC 6 Music's daytime playlist. But then every other time I hear it, I just get over myself and enjoy the sheer gobsmacking loveliness of the music they make. Like many acts who once laboured under the collective noun "folktronica", strings, voices, acoustic guitars and piano are mixed up with hypnotic beats, but Grasscut admirably subtract any cheapo I-used-to-go-clubbing-don't-you-know noises from their work, instead boldly inserting samples from what sounds like a Radio 4 wildlife programme. In the grand geography lesson of indie rock, if Villagers' music makes me think of long train journeys in Eastern Europe and The Staves calls to mind lonely drives through rural Wisconsin or Scandinavia, Grasscut has me trudging along the bird-laden fens of East Anglia, possibly stopping to note the mating activities of a golden plover. If that isn't enough to convince you, they've even got a song ("Halflife") about the Fukushima nuclear power station accident, and they even manage to make that sound beautiful.
3. Blur – The Magic Whip
What can I say: I just love Blur. So this "reunion album" was always going to be a dangerous prospect, but as Steve Lamacq put it, "Never stop believing in the Albarn and the Coxon." Eight months after its release, with all accompanying hoo-hah, does it still stand up? Yes, is the short answer. The slightly longer answer is that it's perhaps Albarn and Coxon's best collaborative effort to date, continuing the pattern forged by songs like "Blue Jeans", "Tender", and Think Tank's "Battery In Your Leg": the only Coxon contribution on the Coxon-less album. If you enjoyed that side of Blur, you're sure to place songs like "My Terracotta Heart" and "Thought I Was A Spaceman" up there with their best. But Blur have always been great for stories – the band's first four years alone is nothing if not an elaborate Spinal Tap-style sitcom – and the story of how The Magic Whip came into being is a lovely, understated rock'n'roll gem, complete with serendipity and lonely wanders through strange cities. The music on this record reverberates with the romance of the tale itself, and is all the better for it.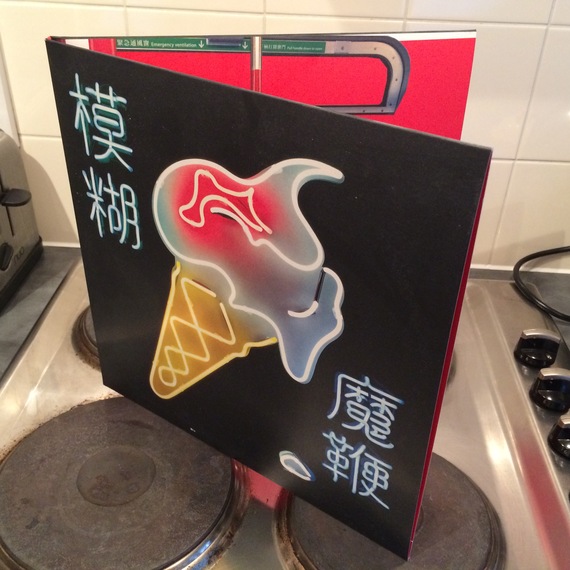 Blur. This record's really cooking.
2. Everything Everything – Get To Heaven
I make no apology for continuing to believe that Everything Everything are one of the finest pop groups on the planet. Not that anyone's asking me to apologise, but as with any British band on their third album you get the distinct impression from certain quarters of the music media that the magic is wearing off. It ain't. Get To Heaven sounds as musically inspired as their first album and as confident as their second, but with a playfulness and ferocity all its own. Risky for any band, EE are capable of playing in practically any style – see the punk-pop of "Suffragette Suffragette" sitting next to the harpsichord jazz of "Two For Nero" on their debut record Man Alive – but producer Stuart Price has managed to cook the whole mishmash of the band's influences down to a perfect, um, casserole, without knocking off any of the exciting corners. Lyrically, the album plays out like an afternoon spent locked in a hotel room with Jonathan Higgs watching four different rolling news TV channels simultaneously, during which Higgs' every nightmare for the present and the future is instantly transcribed and sung at you in a frenzied falsetto. Despite this, it's a thrilling experience – and the extra tracks on the deluxe edition are well worth a spin too, with "Hapsburg Lippp" being one of the barmiest songs to grace my ears in a long time.
1. Young Fathers – White Men Are Black Men Too
In the space of a few short months, Young Fathers have managed to do what few bands have done in years: turn me and my wife into a pair of gibbering superfans. Watching YouTube live footage on repeat, relentlessly listening to all the records (even the early EPs), piling down the front at their gigs, even going to watch them support Paul Weller (we didn't stay for Paul Weller). And why is this? Quite simply: we haven't ever heard anything like them. These three (four when live) ultra-serious men deliver brutal, razor-sharp, inspired, funky, radical and catchy performances every time, and on record they've climbed that rare, hitherto unclimbable summit: followed up a Mercury Prize-winning album with another that's actually better. Can you think of anyone else who's actually done that before? – because damned if I can. Not that winning the Mercury, one suspects, meant a whole lot to them. Apparently they jumped into a Transit van the morning after the ceremony, drove to Berlin and started making White Men Are Black Men Too: an ultra-varied, dazzling meisterwerk, with pop ("Nest"), alternative R'n'B ("Shame"), Golden Age hip-hop ("Old Rock n Roll"), even a ballad ("Sirens"); but most of which can only be described by the words Young Fathers, exemplified by the urgent single "Rain Or Shine". They've committed everything to this disc with such conviction, such inventiveness, but with a sly reverence for the music of the past, that nothing else comes close. I can barely do anything else when this album's playing in the background. I can just about get it together to make a cup of coffee, but I tried cooking a meal once while it was on and ended up with three hysterically boiling pans of water, the ingredients lying unchopped on the chopping board, while I stood there glued to the sound of "Dare Me", some nightmarish council estate father/son story that I almost don't want to know the real meaning of. And that is what I want from music in 2015, and indeed 2016: something that confuses the shit out of me while educating, entertaining, and transporting me temporarily into another life, so that I remain incapable of even cooking my dinner. I can hardly wait to hear what Young Fathers come up with next.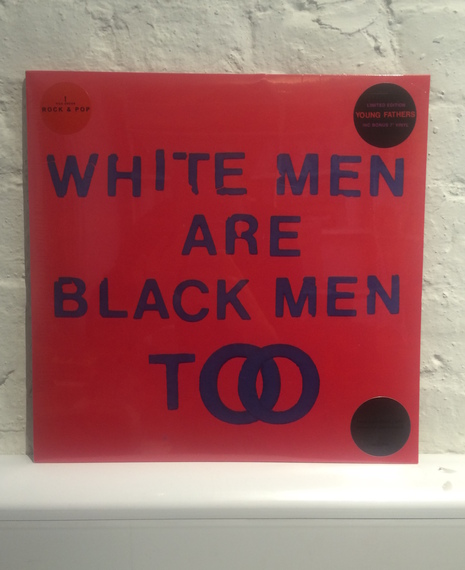 ALBUMS I'M LOOKING FORWARD TO IN 2016:
Field Music… if their latest single "The Noisy Days Are Over" is anything to go by, the album will be a cracker…
She Drew The Gun… we heard their songs every night on the Fink tour, and the debut record's going to be a delight…
Savages… can they top their debut? "The Answer" is pretty damn good… so fingers crossed…
PJ Harvey… we saw some of it being recorded at Somerset House… Flood's producing… how can it not be awesome?
Douglas Dare… hard to imagine this guy writing a bad song… the debut was a pleasure… and I did some choir BVs on his new one so it must be at least partlygood…
DEC 2015