It starts, as these things often do, with a brief and vastly oversimplified history of mid-1980s British pop music.
In 1986, Taylors Andy and Roger left Duran Duran, and Wham! split up. These developments, while of arguable artistic significance, left a big black hole at the top of the pop tree. Until then, 80s pop had bubbled along happily, presenting nicely creative and commercial combos to the world – Tears For Fears, ABC, Thompson Twins, Eurythmics, Frankie Goes To Hollywood et al – safe in the knowledge that whatever happened, Wham! and Duran held fast to their thrones, chucking out the occasional million-seller. Then, in '86, George Michael went solo and released a strange little quirky single called A Different Corner, which these days wouldn't seem out of place on late-night BBC Radio 6 Music. Despite the quite-good Notorious, no-one really expected Duran Duran to carry their global teen-God baton for much longer, now that the rocky boys Taylor had departed. Panic. What would take Wham! and Duran's place?
In short: a load of crud. Five Star, Bros, Big Fun, Breathe, Cutting Crew, and above all, the machine-generated, vacuum-sealed, Tesco-Express pop churned out from the Stock/Aitken/Waterman factory: Kylie, Jason, Rick Astley, Sonia, Sinitta, Brother Beyond. All the guts and experimentation was sucked out of pop music in the space of a few months. Oh, there were A-ha and the Pet Shop Boys, of course, but the former couldn't quite churn out hit after hit as Duran once could, and the latter – while brilliant and, as history would demonstrate, durable – were just that little bit too camp'n'clever to truly inherit the Wham! crown. For a pop fan like me, this state of affairs was depressing to say the least, and as I sat there in my boarding school dormitory haplessly listening to the Johnny Hates Jazz album and wondering when the good bit was going to start, I started to seriously think about An Alternative.
Everyone has had their own gateway into alternative/indie music. The Cure, The Smiths, The Jesus and Mary Chain, Sonic Youth, The Stone Roses – they've all provided a door through which to enter the alternative grotto of delights. For me, that door was The Wonder Stuff. It was a Smash Hits review of their debut album I spotted first, with its winning line: "these four blokes thrash around with their loud guitars and what-not and manage to make lots of gloriously groovy pop songs", not to mention its sign-off: "They're clearly not very pleasant young men, but they've made a fine LP." In 1988, to me, this was akin to describing a sumptuous roast dinner to a starving man. The one problem was, I'd recently spent all my pocket money on an illicit KFC binge. Cunningly, I collared a rich kid a couple of years below me who I knew had recently bought a Cult album, and proceeded to read the review to him as if it was a piece of exquisite poetry, following him around, repeating the words "glorious" and "groovy" as if undertaking some sort of crude hypnosis. Sure enough, the plan worked: that Sunday, he returned to school from a home visit with a cassette of The Eight-Legged Groove Machine, which I immediately confiscated.
The cassette did indeed contain lots of splendid tunes, all blasted out on guitars the size of phone boxes and turbo-charged drums. But what lifted The Wonder Stuff above all other loudly poptastic indie merchants of the time was a man standing in the middle of all this racket by the name of Miles Hunt. Few rock frontmen manage to pull off arrogance, rudeness, wittiness and likeability simultaneously, but Hunt did, and does, all via the fortunate possession of a singing voice like a particularly pleasing alarm clock. For the next four years, Hunt ruled both my stereo and the music press: along with Morrissey and Shaun Ryder, whenever Hunt came out with a half-decent spiky quote it was plastered over the front page of Melody Maker like an alternative mantra. And, obviously, the music: second album Hup was even better than the first, combining their winning knack for a roarable melody with something more adventurous. By 1991's Never Loved Elvis, The Wonder Stuff were filling, much to even their own astonishment, vast outdoor spaces with giant, joyous moshpits.
It's no surprise, then, that this portal to the world of feedback and distortion – and not least, this exit sign from the world of perfunctory late-80s pop drivel – has always lingered somewhere near the forefront of my mind. The Wonder Stuff have had ups and downs over the decades, but just this last Friday released their eighth studio album 30 years to the day they formed, also marked by packed celebration gigs and, rumour has it, murmurings of a respectable UK album chart position. So: for what reasons should you listen to The Wonder Stuff in 2016?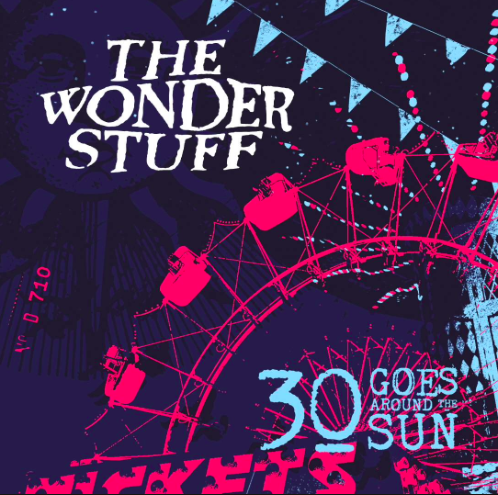 Well, on the strength of the record in question, 30 Goes Around The Sun, there are many. Simply put, if you want driven, unambiguously well-crafted alternative rock that isn't cluttered with fake passion or constant references to who the singer texted while drunk last night, I can't think of a better place to get it than The Wonder Stuff. Frank Turner, Augustines, Catfish – they all come close, but there's something uniquely invigorating about the way Hunt spits out lyrics like "sure enough I can swear like a sailor" on opener Don't You Ever, or "while it ain't about the money, it's the money that might build you back to size" on Weakened. It's not all fire and brimstone: as Hunt himself once sang, he's not afraid to write a pop song, and Good Deeds And Highs more than proves he can still do it. Further to his 90s heyday, he's assisted in this by the presence of Erica Nockalls – improving the aesthetics of the group as only a six-foot punky-blonde violinist can – who shapes much of this album's sound not only with her strings, but with her spot-on backing vocals. There's also – how can I put this – an abrasively comforting feeling to be in the company of a band who know exactly what they're playing when they play it, who they're referencing, who's done it before and whether it worked or not. Sit down with a guitar to play something new and it could be literally hours before you strike a chord or riff you haven't heard on a hundred records since 1978. The question is: do you persevere, insist on the fresh, or embrace an infinitely quotable past?
The thing is, you see, The Wonder Stuff – along with their more blatant chums Pop Will Eat Itself – were always ones for a cheeky sonic reference, much like the hip-hop scene that exploded around them back in the late 80s. Their excellent cover of Lennon's Gimme Some Truth in 1989 was practically a mashup, skilfully inserting the sonic template from PiL's Public Image without worrying any copyright lawyers. Samples and snatches of radio dialogue abounded in their early work, and the closing flourish to their biggest hit The Size Of A Cow morphed effortlessly into a mini cover-version of Elvis's Jailhouse Rock. What's pleasing about this latest long player is that the tradition has continued: when Erica yells "Hey! Hey! Hey!" on For The Broken Hearted, you can almost see Miles Hunt smiling at the Art Of Noise quote. Appropriately enough for a 30th anniversary album, there are several flashbacks to their own past: the drum beat to 1988's Ruby Horse rears its head on Misunderstanding Burton Heel, while Weakened bristles with sly citations of their angst-ridden classic Room 410, right down to squeaks of "don't be sad!" in the closing breakdown. The best news is, none of this detracts from the typically robust songwriting.
Because ultimately, that's what it's all about. On the closing song, Hunt sings "I'm all out of tears and rage"; well, I'm happy to say I don't believe him, as they're the fuel for this whole enterprise. Much as the band were always capable of the lighthearted – some might say occasionally too lighthearted – moments, the spirit and the guts of the project were often the touches of sadness: 1990's Circlesquare, 1993's On The Ropes. A band doesn't get to their 30th anniversary without losing people along the way: tragically, both the original bassist Rob Jones and drummer Martin Gilks have prematurely shuffled off to the great indie disco in the sky, and you get the impression that the various loves and losses continue to infuse new songs like One Day On and The Affirmation. You can't make records like this if you're 21, and I like the fact that I can hear these stories and various grievances aired over bracing alternative rock music, rather than being the sole property of a more mellow, acoustic, minimalist style, good though that can be. Neither too nostalgic nor too preoccupied with being relentlessly "current", we need bands like The Wonder Stuff to accompany us through the years and remind us why we got into all this trouble in the first place. So: happy anniversary, Mr Hunt and team, and if it's not too exhausting a thought, here's to the next 30…
30 Goes Around The Sun is out now.
MARCH 2016